Surface:
Galv, Powder Red
Transport Package:
Gunny Bags
Specification:
3MM to 25MM
Origin:
Shandong of China
1. A leading manufacturer  for more than 25 years
2.With best quality and competive price
3. prodution : 50000000pcs one month
---------------------Production details --------------
 
1.Production name : Stud marine anchor  chain
2.Place of origin :Â  Shandong of China
3.Brand :Â  TY
4.Material : Carbon steel ( Q235) , Alloy steel
5.Surface : Electric Galv , Hot dipped Galv , Selfcolor , red
6.Standard : DIN TYPE
7.Stock : There are emergency stock for regular size
8. Type : DIN 766Â  ,DIN 763
----------------------- Proudct Data  -------------------------
| | | | |
| --- | --- | --- | --- |
| SIZE | INSIDE LENGHT | OUTSIDE WIDTH | BREAKING LOAD |
| MM | MM | MM | KGS |
| 2 | 12 | 7.5 | 1.25 |
| 3 | 16 | 11 | 4 |
| 4 | 16 | 13.7 | 8 |
| 5 | 18.5 | 17 | 12.5 |
| 6 | 18.5 | 20.2 | 16 |
| 7 | 22 | 23.8 | 25 |
| 8 | 24 | 27.2 | 32 |
| 9 | 27 | 30.6 | 40 |
| 10 | 28 | 34 | 50 |
| 11 | 31 | 37.4 | 63 |
| 12 | 36 | 40.8 | 72.4 |
| 13 | 36 | 44.2 | 80 |
| 14 | 41 | 47.2 | 100 |
| 16 | 45 | 54.4 | 125 |
| 18 | 50 | 61.2 | 160 |
| 19 | 53 | 64.6 | 180 |
| 20 | 56 | 68 | 200 |
| 22 | 62 | 75 | 243.2 |
| 23 | 64 | 78.2 | 250 |
| 26 | 73 | 88.4 | 320 |
All types link chains
Proof coil chain astm80 (g30)
High test chain astm80 (g43)
Transport chain astm80 (g70)
High test aolly chain astm80 (g80)
Barge chain
Boom chain
Long link lashing chain
Din763 link chain
Din764 link chain
Din766 link chain
Din5685a/c short/long link chain
Australian standard link chain
Chain with delta ring and clevis grab hook
Hatch covers chain
Binder chain
FU Series Bucket Conveyor Chain
NE Series Bucket Conveyor Chain
Burying scraper chain
NSE Series WTJ chain
EN masse conveyor Chain
Beried scraper coal feeder Chain
Hidden scraper Chain
T Series Horizontal scraper conveyer chain
HL ring Chain
PL-plate chain hoist
-------------Prouduction and Package ------------------
1)Gunny bag
Size: 35*50(cm)
Weight: 200g(only bag)
50kg /Bag
2) Carton
Size: 34x24 15 CM
Weight: 25kgs / Ctn
----------------Delivery and Payment --------------------
1. Payment term: 30% advanced by T/T, the balance should be paid after see the                                     copy of  the B/L; L/C at sight; Western Union.
2.Delivery time;   Usually within 15-30days according to your required                                                        size&quantity.
--------------------Contact details -------------------
Why you choose us  ?
· China Leading Producing Technology
· Big Production Ability
· Fast Delivery
· Super High Quality
· Competitive Price
· Ten Years' Export Experience
· Excellent Sale and After-sale Service
· OEM Available
         
 
Steel ladder step board is also known as the Stair Step Board, which according to the installation method, generally can be divided into welding and screw fixation of the two types, if the direct welding to the keel and do not need to step step plate side, relatively more economical Durable but not disassembled. Bolts are fixed on both sides of the Stepping Board to be thickened and the side plate is perforated and mounted on the side plate, which is directly bolted and can be recycled in use.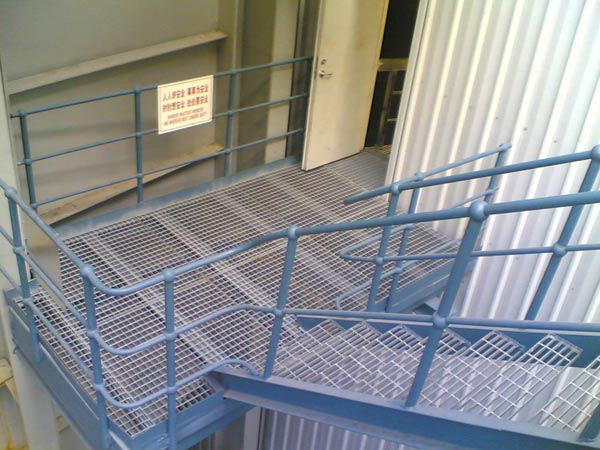 The steel staircase plate is made of Steel Grating (the steel grating is crossed with a certain spacing and crossbar and is welded into a steel product with a square grid in the middle). The product surface is generally hot-dip galvanized, electro-galvanized. Steel staircase is mainly used for industrial platform, ladder pedal, handrail, channel floor, railway bridge side, high-altitude tower platform, drains, covers, road grille, three-dimensional parking, institutions, schools, factories, enterprises The staircase of the cause, the sports field, the garden villa can also be used as the outer window of the house, the balcony guardrail, the highway, the railroad rail and so on. The pedal is made of steel grating plus non-slip and side plate. Mainly used for stepping on the steel ladder, it is usually called Staircase Stepping Board, referred to as the ladder pedal.

specification:
Steel Ladders need to be made in a variety of sizes to suit the corresponding stairs, but from the economic and safety point of view, we recommend that you use the following specifications:
T325 / 30/100 (for staircase width greater than 215mm not more than 305mm)
T255 / 30/100 (for ladder pedal width greater than 215mm not more than 305mm)

Steel ladders stepping board type:
According to the installation of steel ladder pedal is divided into welded fixed ladder and bolt fixed pedal. One of the welded staircase pedal, that is, steel grating, bolted ladder pedal need to add a steel grating 65x5mm flat steel as a side plate.

According to the steel stepping board anti-skid requirements can be divided into a front panel (pattern plate or strip) of the ladder pedal and no front panel of the steel staircase two. For safety reasons, it is advisable to use a steel ladder with a front guard.
Steel Ladders
Steel Ladders,Foldable Steel Ladder,Household Steel Ladder,Stainless Steel Ladders
Hebei Zhenxing Jinyuan Wiremesh Group Co.,Ltd , http://www.zxsteelgrating.com